A Living room used to be a place for family relaxation or for having dinner together. It is now very common to use a living room as a family's workspace.

I wanted an easy carrying table lamp which creates my own "place" and "moment" wherever I go.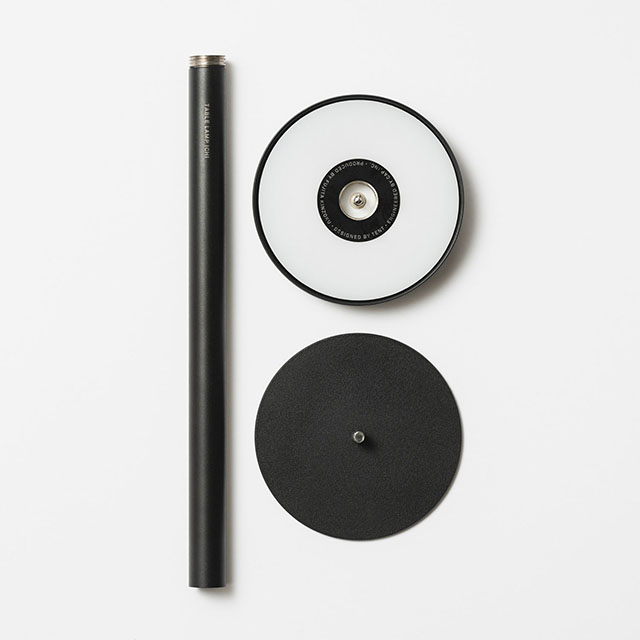 Anyone from children to the elderly can easily handle and light up anywhere they like, either indoor or outdoor.

Designers, engineers, and craftsmen gathered together under such concept and produced the new masterpiece table lamp "ICHI".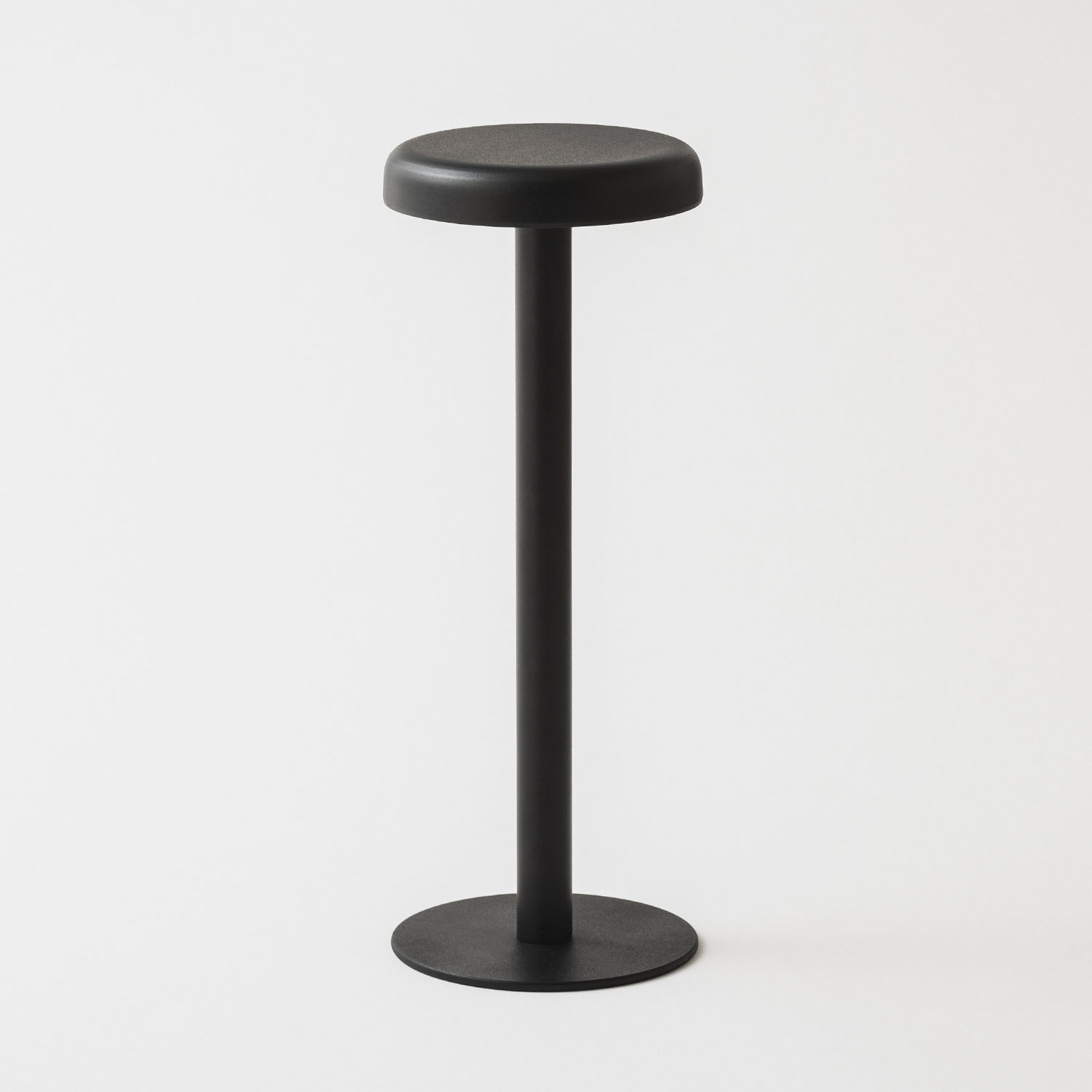 But creating new products from scratch never be easy.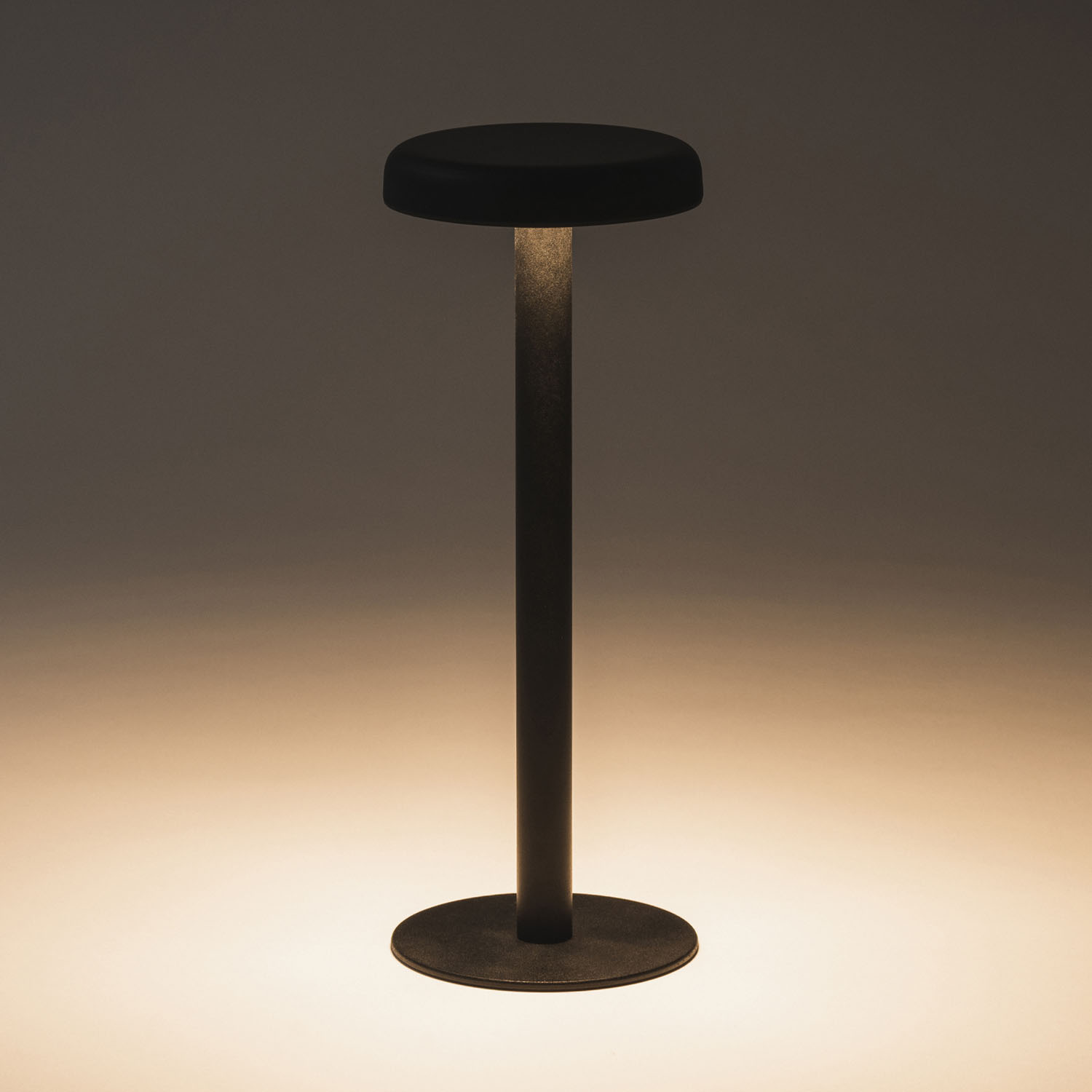 FUJITA METAL has been manufacturing frying pans as their flagship product since their establishment. It's a new and unknow experience for them to manufacture table lamps.

I would like to talk about twists and turns of the table lamp "ICHI"'s production story.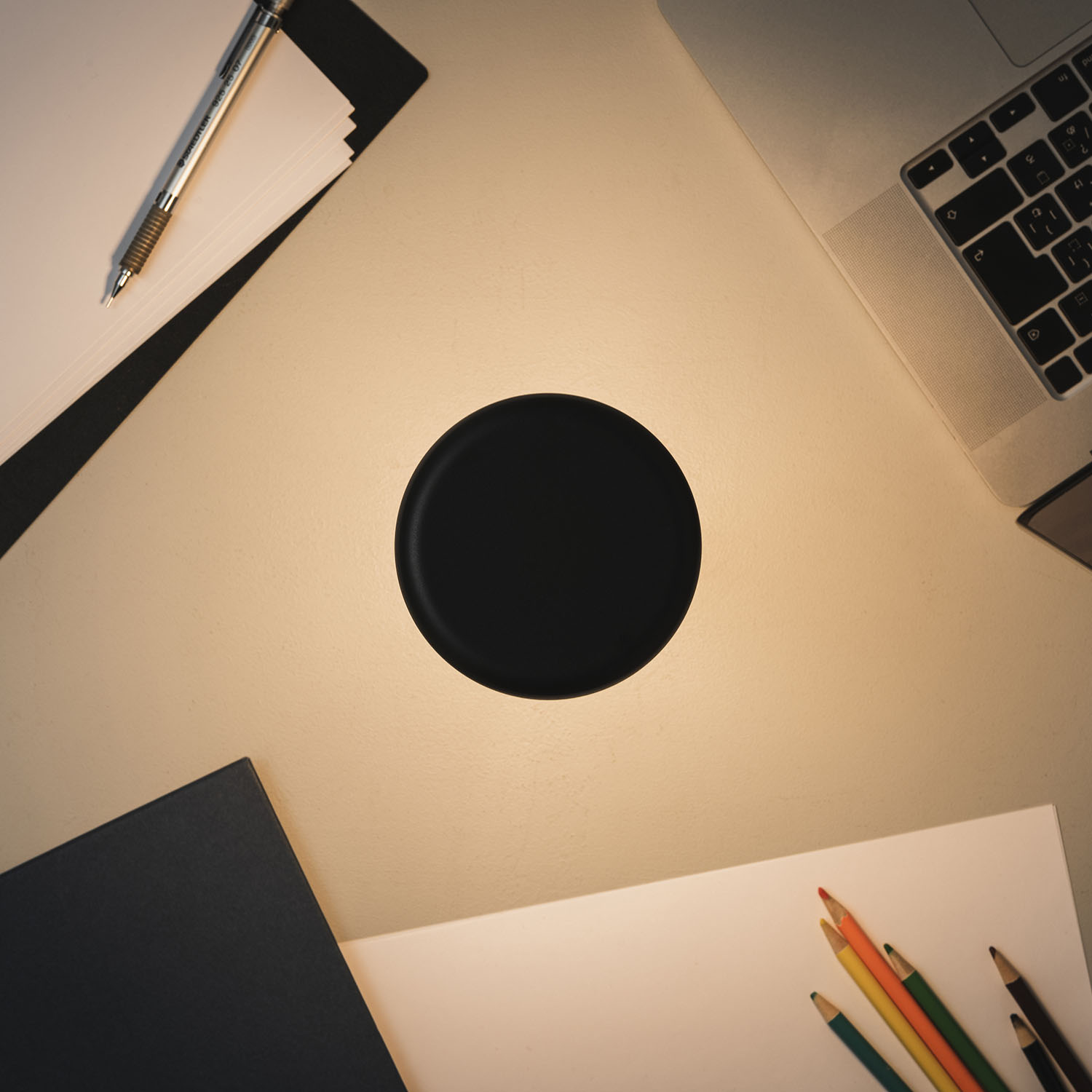 1. All what we want is simple light.

FUJITA METAL MFG co., ltd
Seichiro Fujita (hereafter FUJITA) :
This time, I was approached when drawings were roughly completed.

I was wondering what made you decide to design the table lamp in the first place.


Design Team TENT
Ryosaku Aoki (hereafter AOKI) :
It was quite a while ago, I think. HARUTA-san said he wants a rechargeable battery operated portable table lamp.


Design Team TENT
Masayuki Haruta (hereafter HARUTA) :
Yeah, my kid was an elementary school student at that time, and he usually did his homework in the living room.

So, I was looking for a portable table lamp for him. But I couldn't find the right one.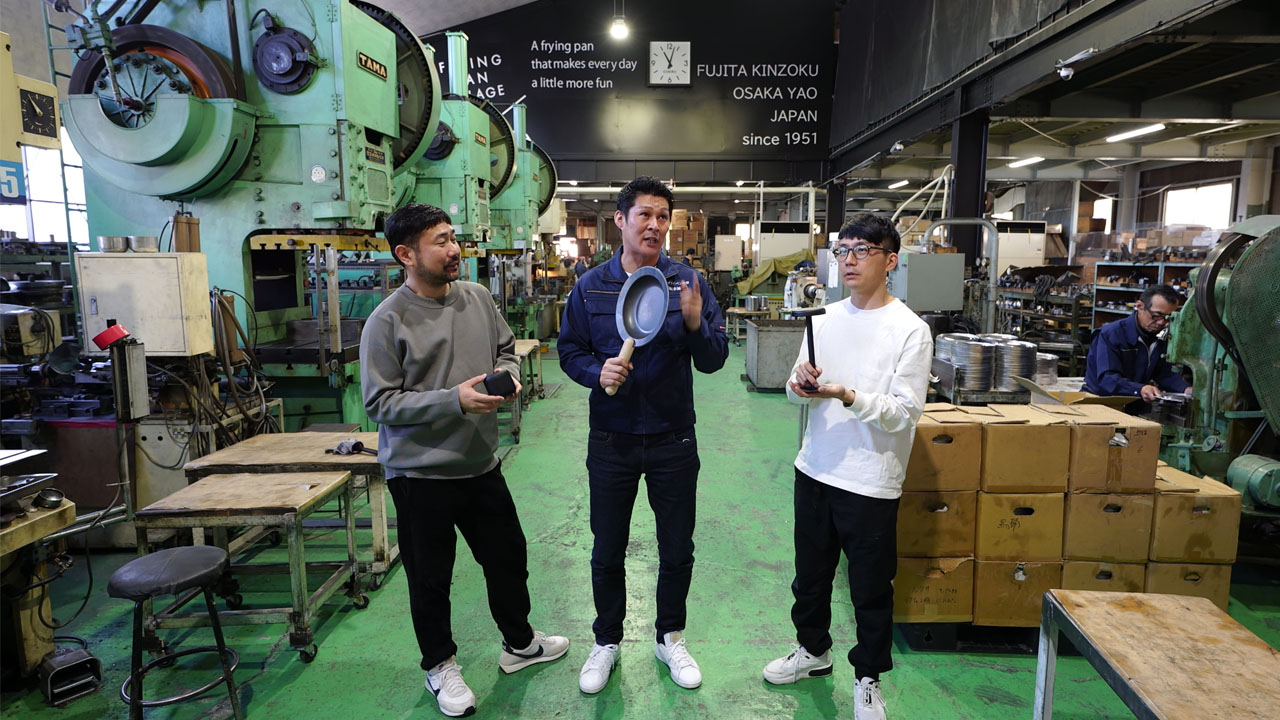 From the left: HARUTA, FUJITA, AOKI




AOKI:
At one point, we were actually discussing about producing it by ourselves.


HARUTA:
Yes, but while doing so, my kid became a junior high school student ….

And he started to do his homework in his room. As the time goes by, my desire to get a portable table lamp got weaker and weaker.


FUJITA:
I see …


AOKI:
After several years, my baby grew up and became an elementary school student. Now he is studying in the living room.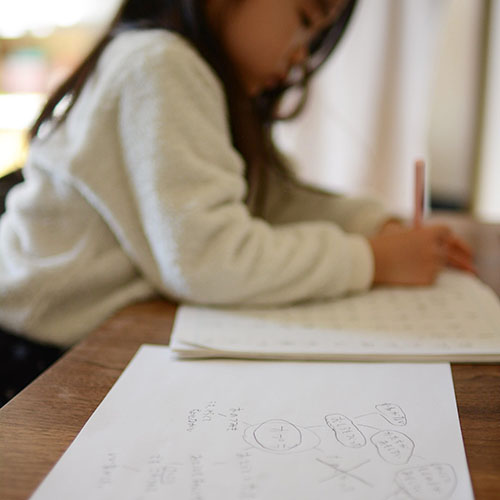 FUJITA:
Oh really? Time flies!


AOKI:
It was my turn to feel that I need a table lamp for my kid to study in the living room. At first, I brought the table lamp from our bedside table.

But it was really troublesome to plug and unplug the power plug every time. I also had to take it back to the bedroom before dinner time.

I then realized why HARUTA-san was looking for a rechargeable battery powered table lamp.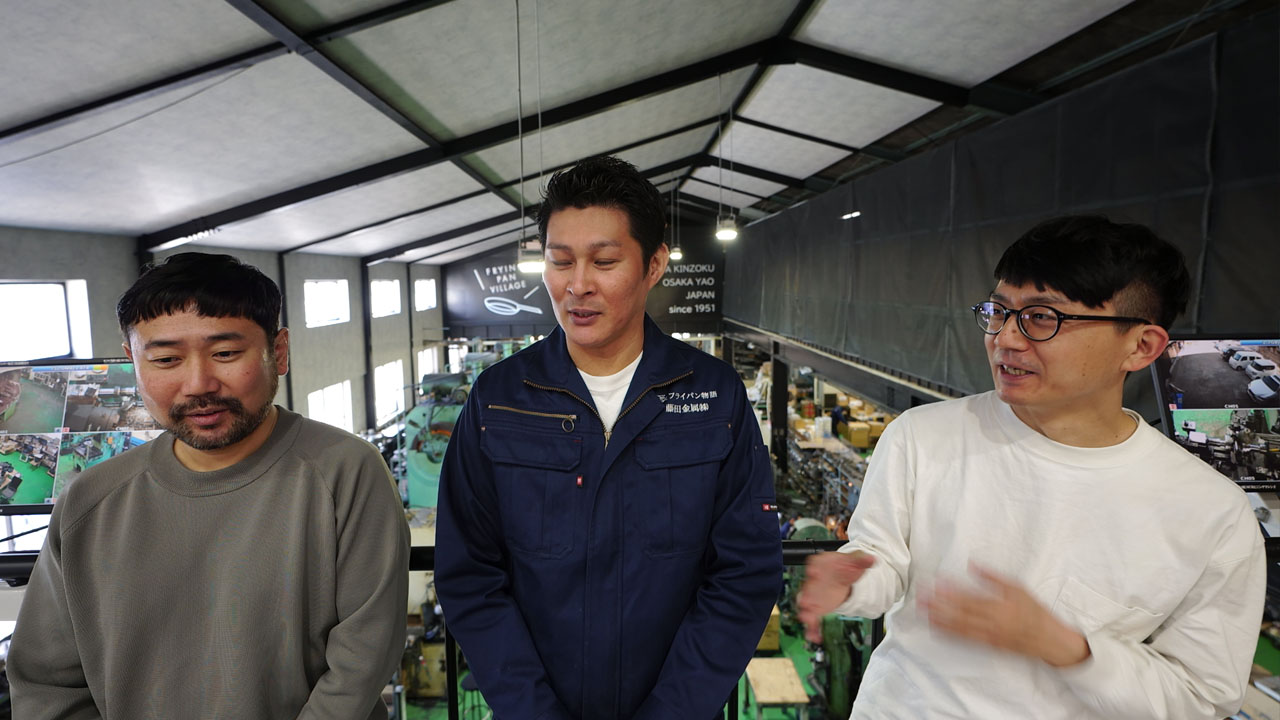 FUJITA:
You also couldn't find the one you want?


AOKI:
There were much wider selections of portable table lamp compared to when HARUTA-san was looking for. But many of them were typical swing-arm work desk lamps or had some unnecessary functions.

None of them seem to fit in.


HARUTA:
Most of them are over designed or functioned.


AOKI:
Indeed. What we want is simple light.
After several months, I suddenly came up with an idea.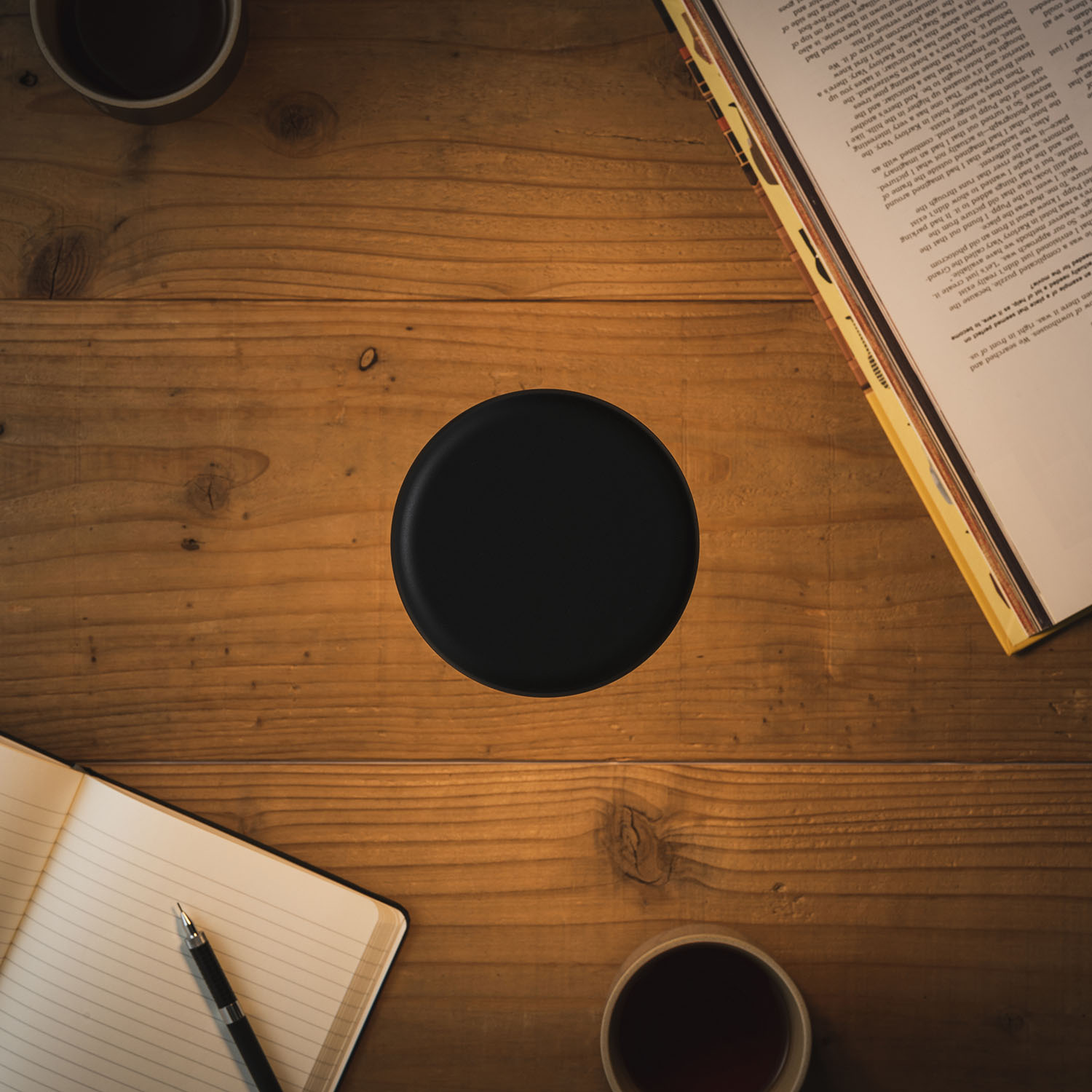 2. Sharing light together with everyone

AOKI:
Our dining table is not only used for having meal together. It also becomes the study desk for our kids, work desk for me, and my wife sometimes use it for sewing.

There are no individual desks in my house. Our dining table becomes our workspace.

So, I came up with an idea of sharing light together with all my family.

I imagined our dining table as the park, and my family is doing their own things under a park light.

I drew rough design right away.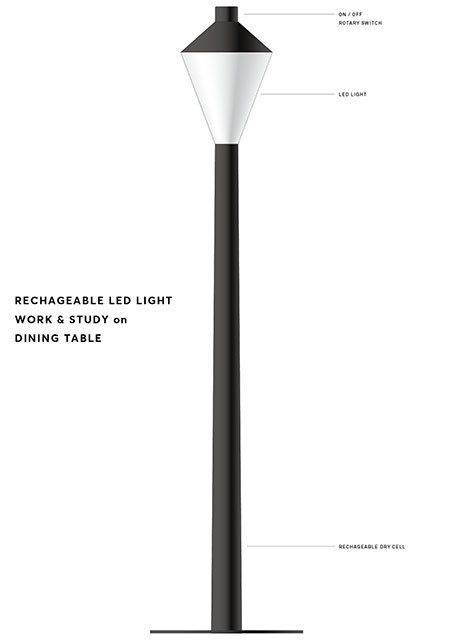 Based on this rough design, I decided to make contact with freelance engineer, Junichi Nagayama.


CAP, INC. Junichi Nagayama (hereafter NAGAYAMA) :
Hi, I'm NAGAYAMA.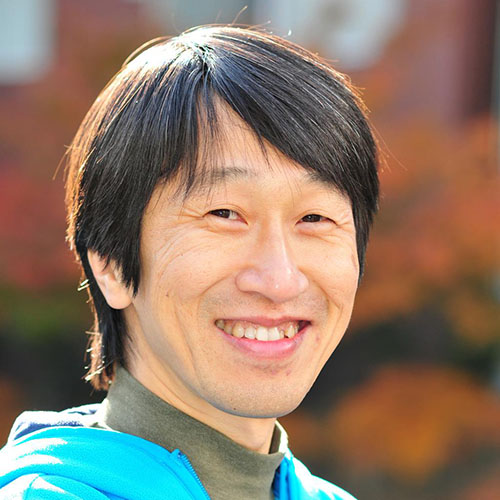 Junichi Nagayama
He established the software company, CAP, INC, after he graduated from the University of Tokyo. After he developed awarded software, ARENA Internet Mailer, he extended his carrier with hardware and mechanics, and now works as the multi engineer.





AOKI:
Hi NAGAYAMA-san!
Could you tell us about your first impression of this rough design?


NAGAYAMA:
Well, I thought the idea and looks of the park light is very interesting, but it won't be easy to mass-produce it.


HARUTA:
I didn't know that. (laughter)


NAGAYAMA:
Having said that, it's not so difficult to producing a prototype by 3D printer. That's why I just decided to produce it right away.


AOKI:
Yeah, I remember you did it with lightning speed.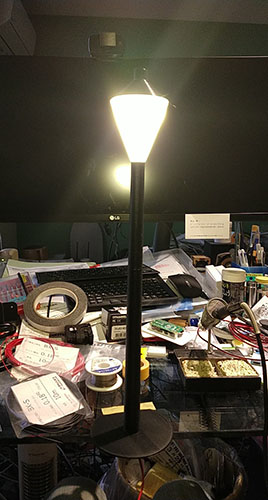 NAGAYAMA:
I was keep thinking that how I can install a circuit board and batteries if top parts (the lighting unit) is so small. If it powered by dry cell batteries, they can be inserted inside the pipe. My head was filled with loads of thoughts.


AOKI:
We also thought about a installing rotary dimmer switch in the top parts.

We produced prototypes up to version 4 with this "park lamp" idea and we were actually using it at home.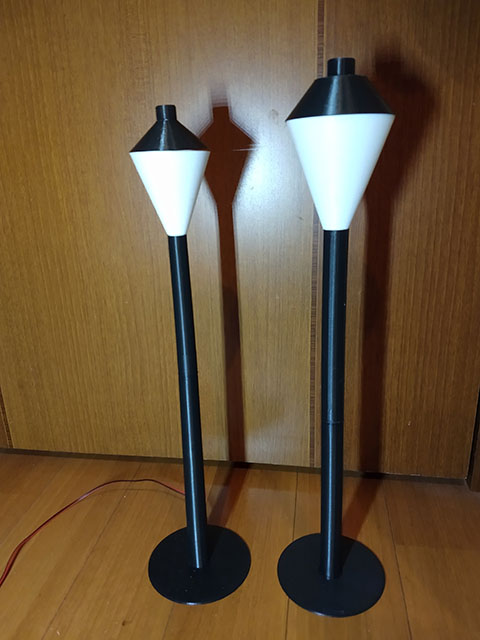 HARUTA:
To be honest, I quite liked it as I could feel like I am in the park by just placing this table lamp on the table. I still remember I was enjoying that atmosphere.


AOKI:
I agree. My kids liked it too.

I used it for few days and began to discuss about minor adjustments of shapes. I suddenly thought something is not quite right.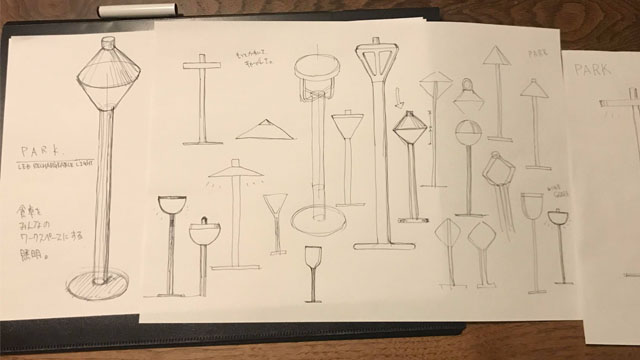 3. Meaning is actually meaningless

FUJITA:
What made you think that something is not quite right? You were getting close to finalizing the design.


AOKI:
I originally wanted a simple table lamp which lights up around hands.

As you can see from the design, the white lighting unit is the light source. It lights up your face rather than lights up around your hands. That's why I felt something is not quite right.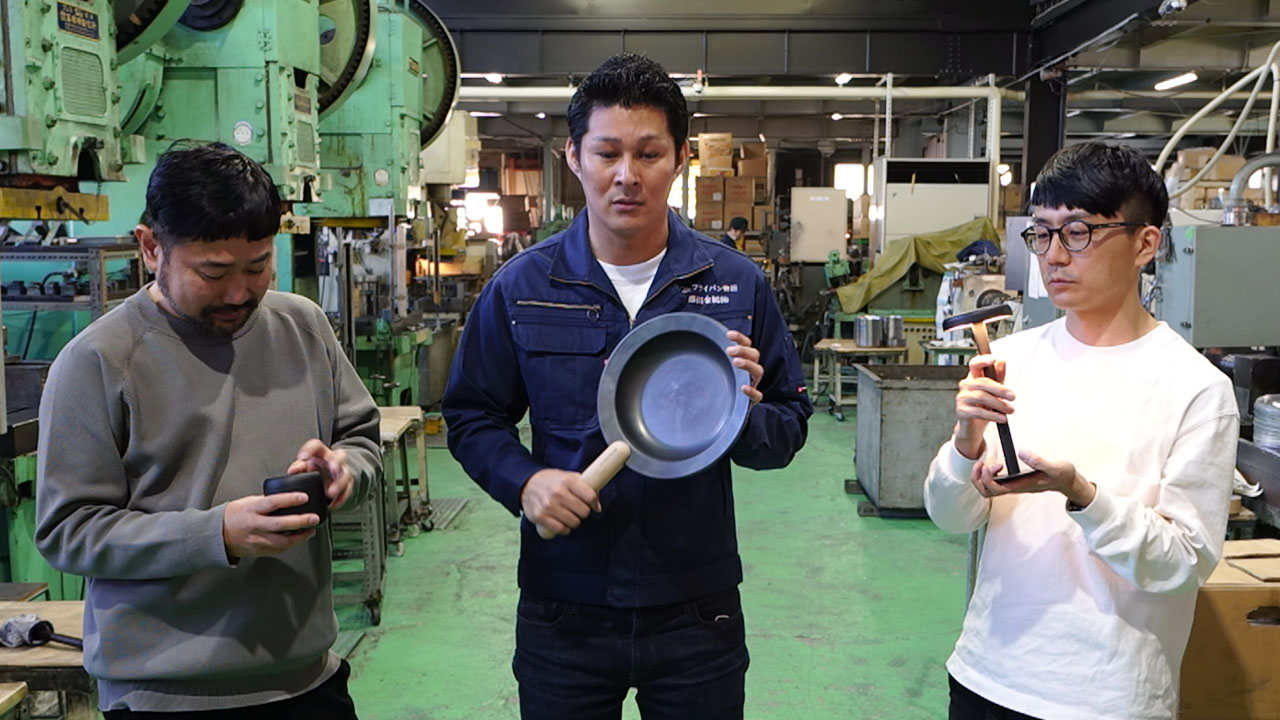 HARUTA:
AOKI-san explained his thoughts to me and asked my opinion.

So, we decided to take the lighting unit off from the base and placed many different things on the top of it.


AOKI:
Yes, for example, a dish, round plastic case for toy, etc.

We tried whatever we can think of and when we placed lid of circular tea canister, it seemed to fit.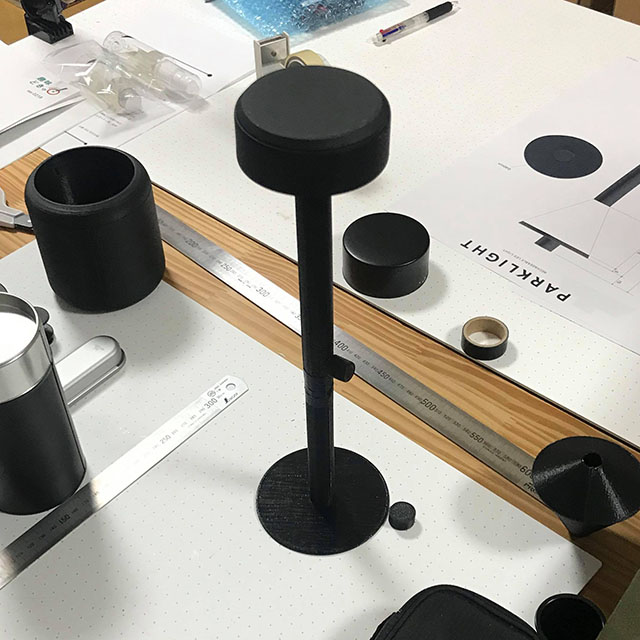 HARUTA:
It looked totally different from the park light…


AOKI:
It ended up with that way. Come to think of it, I was imagining people standing by the park light and I was looking at them from the distance.

When I imagined about me using it at the desk, the idea and meaning of park light design was truly meaningless.

I finally realized that the best answer is the minimal structure. Top of the lighting sauce needs to be covered so that it will only light up the table.


NAGAYAMA:
At that moment, I was still working with the idea of park light. I suddenly got a call from AOKI-san saying that "I am really sorry, but the plan has totally changed".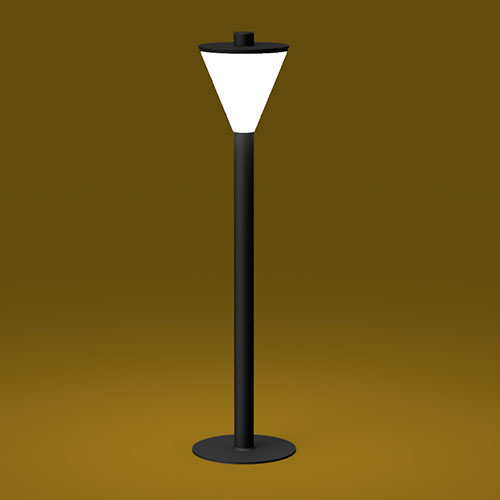 AOKI:
I know…. It happens pretty much every time when I work with you, and I am feeling really bad about it.


NAGAYAMA:
Well, to be honest with you, this design brought more benefits to the electrical structure.

There is more space for the circuit board and placing components, and it is also better for heat management. On top of that, I should be able to hide dry cell batteries inside the pipe.

I had a feeling that this concept is the best for achieving the minimal design.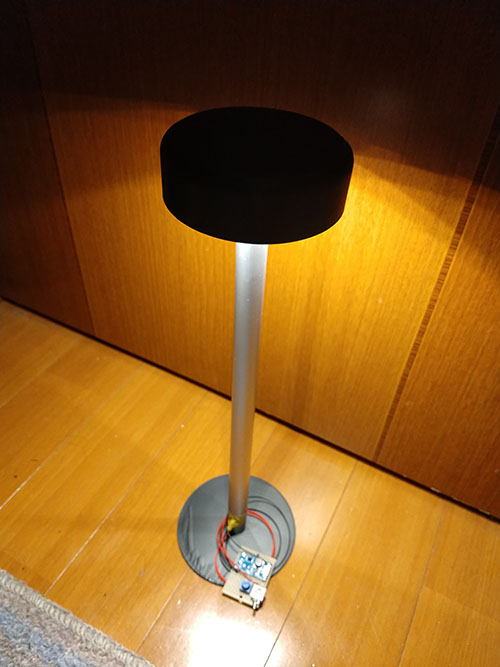 4. Benefit of dry cell batteries

HARUTA:
At this moment, TENT (AOKI & HARUTA) was still planning to use a pre-installed rechargeable battery. When NAGAYAMA-san suggested to use dry cell batteries, we were both…


AOKI:
We thought, "Oh my word… that's so outdated…"


NAGAYAMA:
Oh, did you? From the very beginning, I was sure that dry cell batteries would be perfect for this table lamp. If you use rechargeable batteries, a cable and charger are required and most importantly, the lifetime of rechargeable batteries will be equal to the product lifetime.


AOKI:
Although we weren't quit convinced by NAGAYAMA-san's idea yet, we asked him to produce a new prototype version 1. We did a 180 after we used it.


HARUTA:
I thought that inserting dry cell batteries into the pipe creates pleasurable feelings.

A Keyboard of iMac used to be powered by dry cell batteries and I had to insert batteries into the cylinder. It is same style and this prototype reminded me that.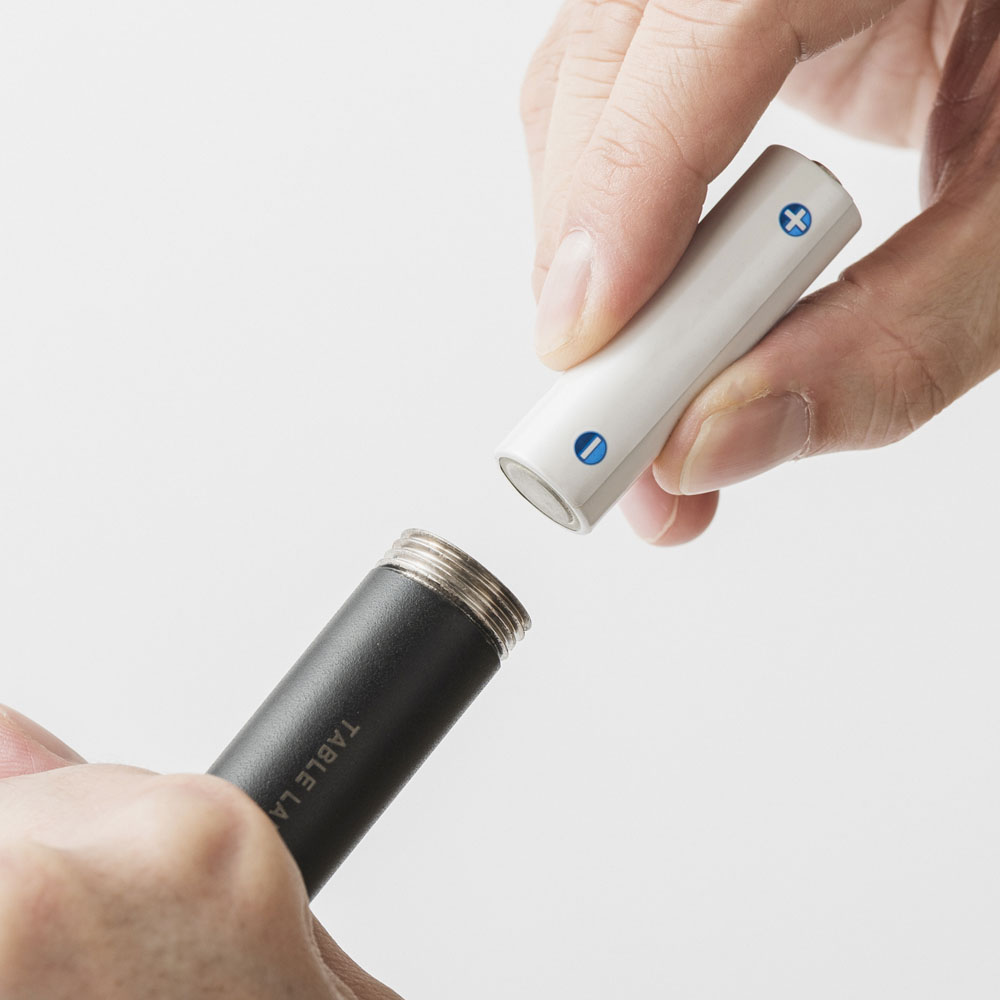 AOKI:
Indeed! It sounds bit troublesome when you hear "powered by dry cell batteries". But when you actually try it, you will be addicted to it a little.


HARUTA:
After we all agreed on the design and structure of this table lamp, we noticed that we should be able to use iron to produce it. And we decided to talk to you, FUJITA.


FUJITA:
I see, there was such a long story before I join this project.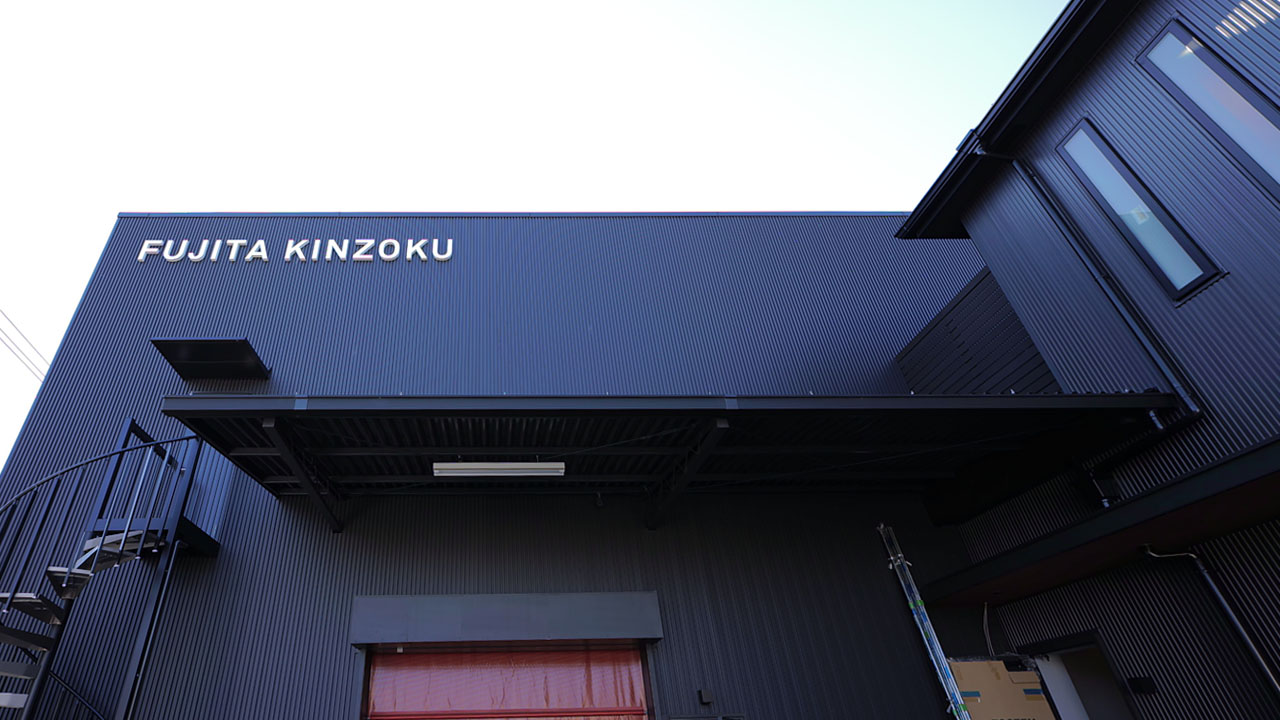 5. The way to get over the hurdle of mass-production

AOKI:
What was your impression when we introduced you this project?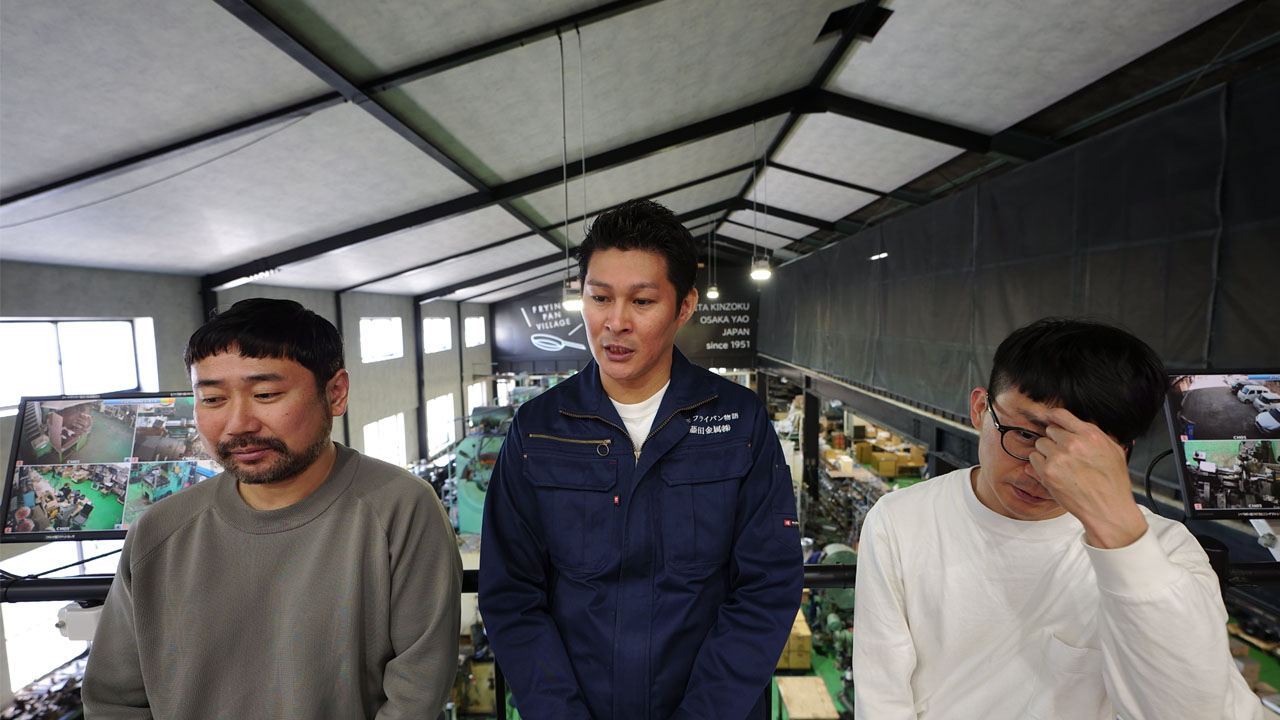 FUJITA:
I loved your idea and it made me feel I want to buy one! But from manufacturing point of view, I was feeling really nervous.

But I felt much better after I found out it is powered by dry cell batteries.

I was also concerned about how all parts should be assembled as we had no experience on manufacturing table lamps, but NAGAYAMA-San took it into account and developed the internal structure.


NAGAYAMA:
One of my concerns was soldering wires. At the beginning, I thought soldering wires can't be avoided in the process of manufacturing this table lamp, but I finally found the way around it.

The other concern was that in the case of manufacturing electrical products, minimum order quantity tends to be high.

Manufacturing new table lamp isn't that hard but when it comes to manufacturing it with affordable price, it's a different story. We have to produce several thousand from the start.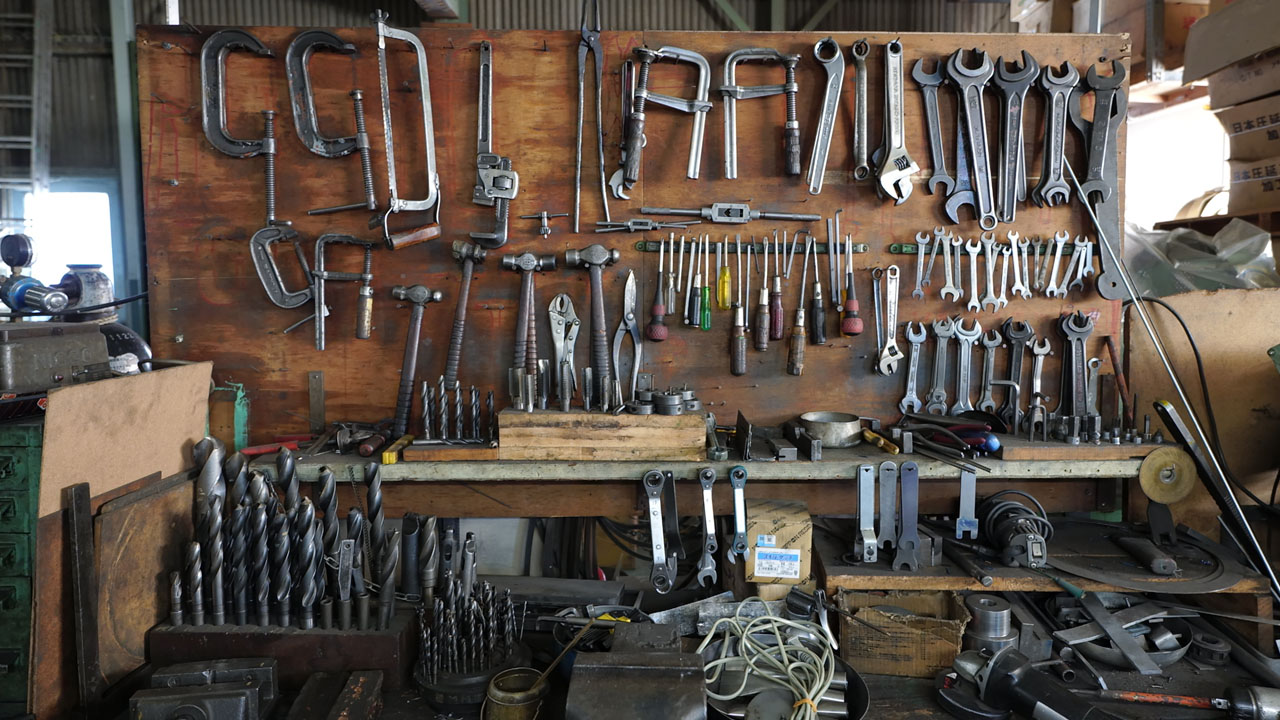 AOKI:
I faced that issue so many times. Internal structure of electrical items is often complicated. It requires a circuit board and many other small parts, which means we have to prepare so many parts in a large quantity.


NAGAYAMA:
Manufacturing several thousand table lamps without having any experiences or sales channels isn't very realistic.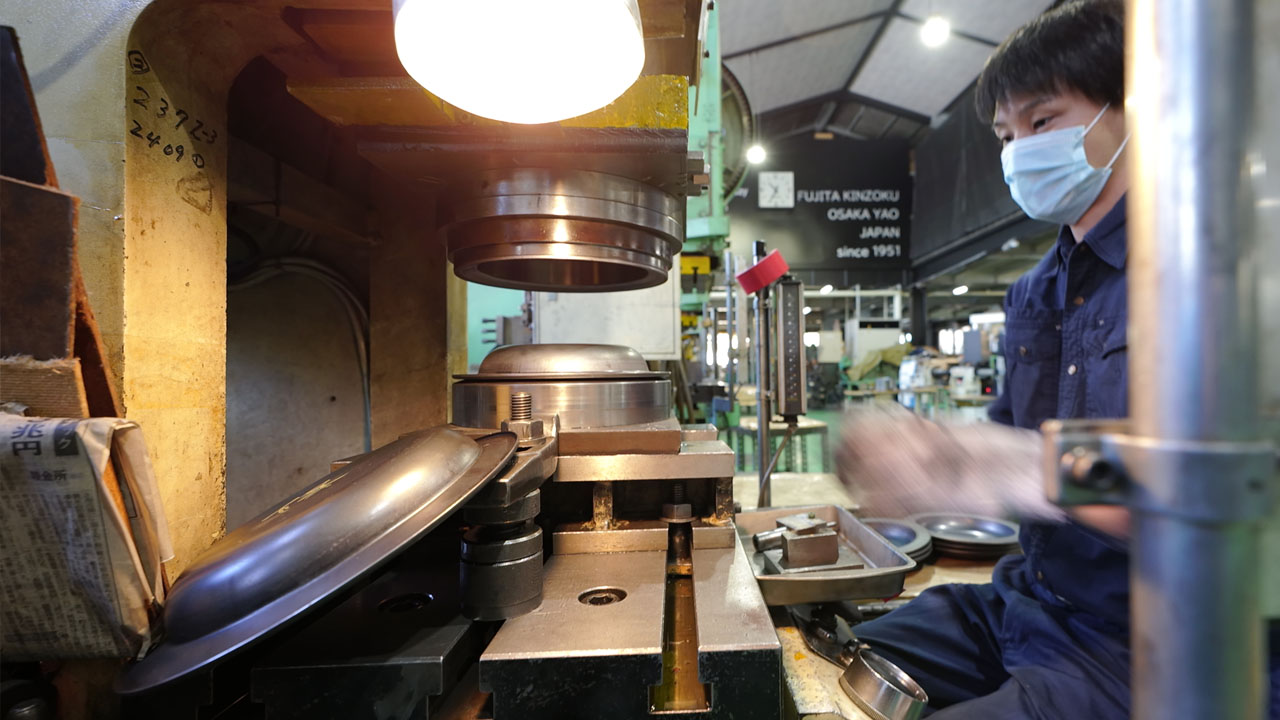 Ideally, you would like to start from a small lot manufacturing and gradually increase manufacturing quantity. So, I designed the structure which is suitable for both small lot and mass manufacturing.


AOKI:
How exactly did you do that?


NAGAYAMA:
There were two key aspects.
Avoid using plastic parts which require molding.
Complete as many process as possible within Fujita Metal MFG's facility.
I kept those in mind and designed the structure.

For instance, instead of using plastic parts, I combined several different metal rings. In this way, they can manufacture required parts at their factory.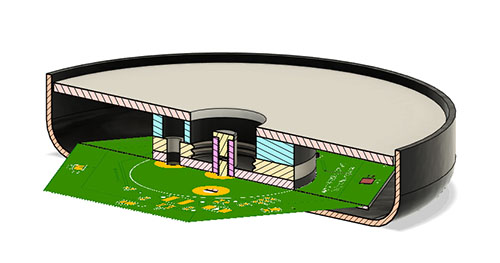 AOKI:
These are not only about how to ease manufacturing processes but also for manufacturing cost, product lifetime, as well as for easing repairing process. Am I right?


NAGAYAMA:
Yes, exactly.


AOKI:
We didn't want this product to be high-end "designer's products". We wanted it to be everyday products with a long product lifetime, like a tough torch.

You always totally understand our thoughts and come back with perfect solutions. That's why we always feel you are so amazing, NAGAYAMA-san!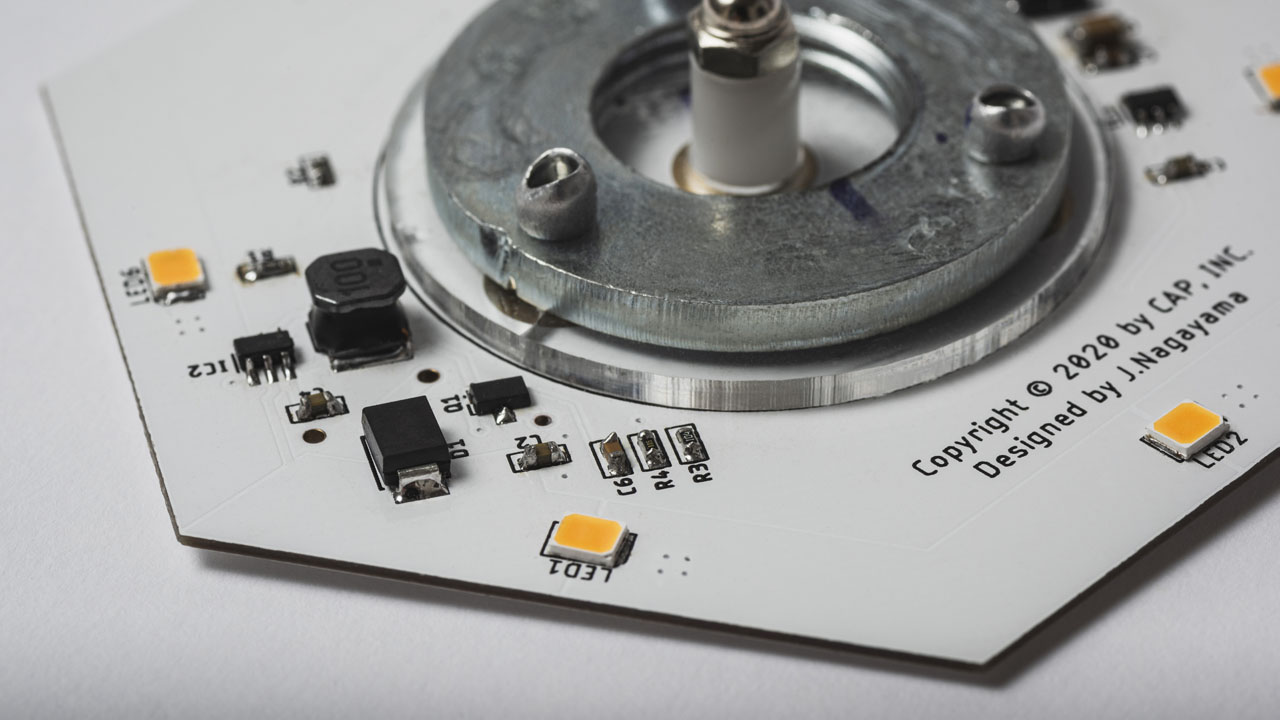 6. The unexpected comfort

AOKI:
Were there any processes that you struggled this time?


FUJITA:
No, not really. When compared to Plant Pot "HACHI", there weren't any major hassles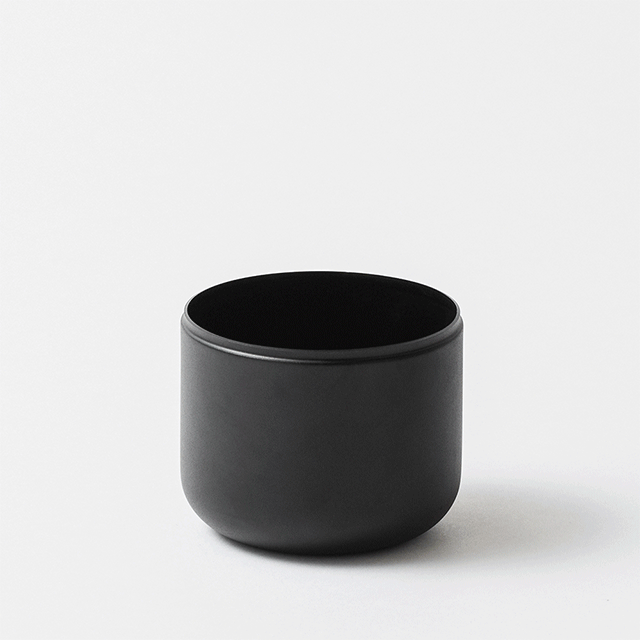 FUJITA:
A metal spinning process for producing outer covers of the lighting unit, cutting pipes and make screw threads, punch out metal sheets for making the base of lamp, etc.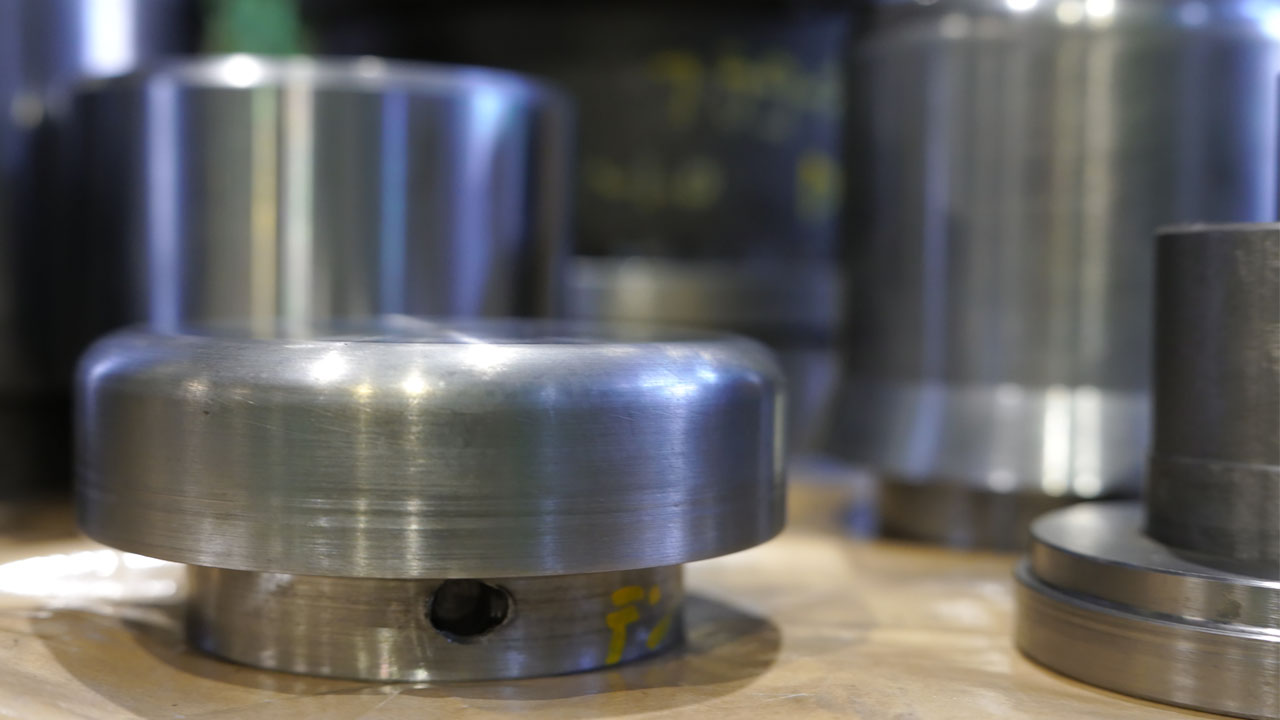 HARUTA:
You know that it can be disassembled into three parts to achieve easy carrying.


FUJITA:
Yes.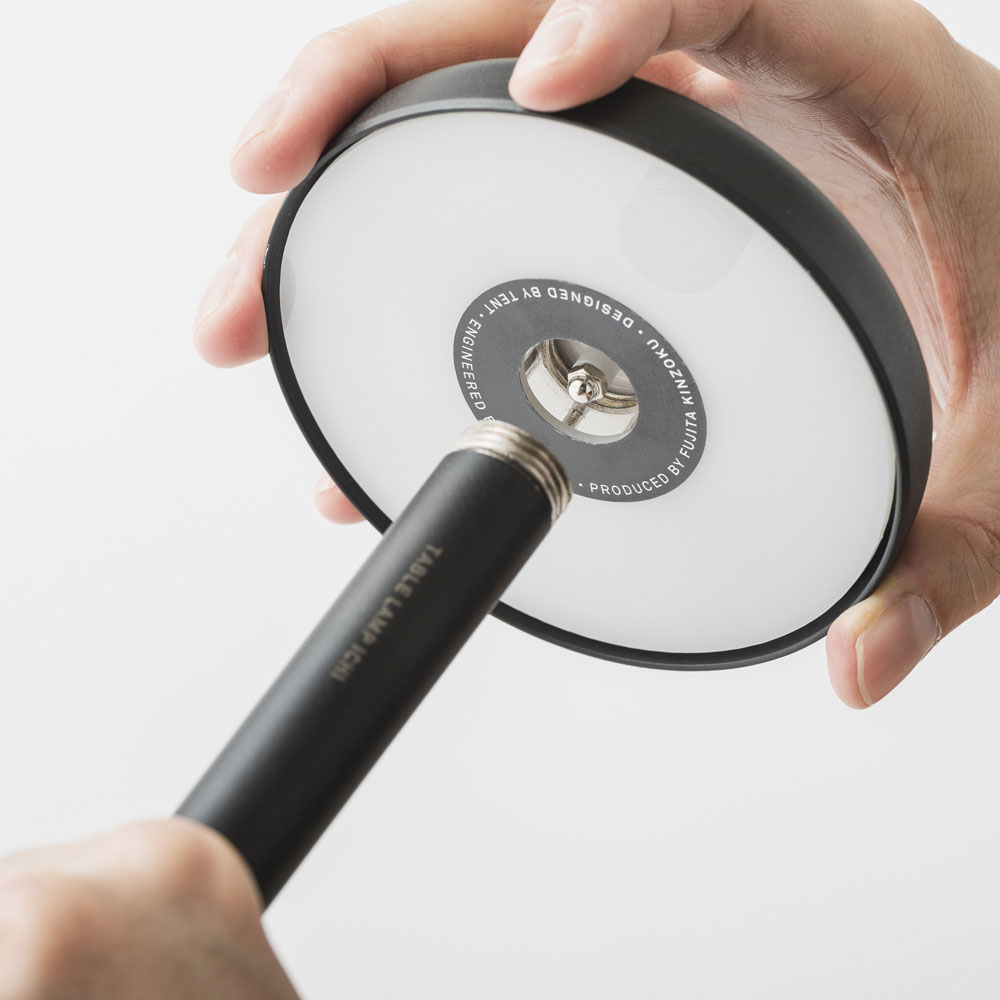 HARUTA:
You know what? We actually weren't planning to make it like that.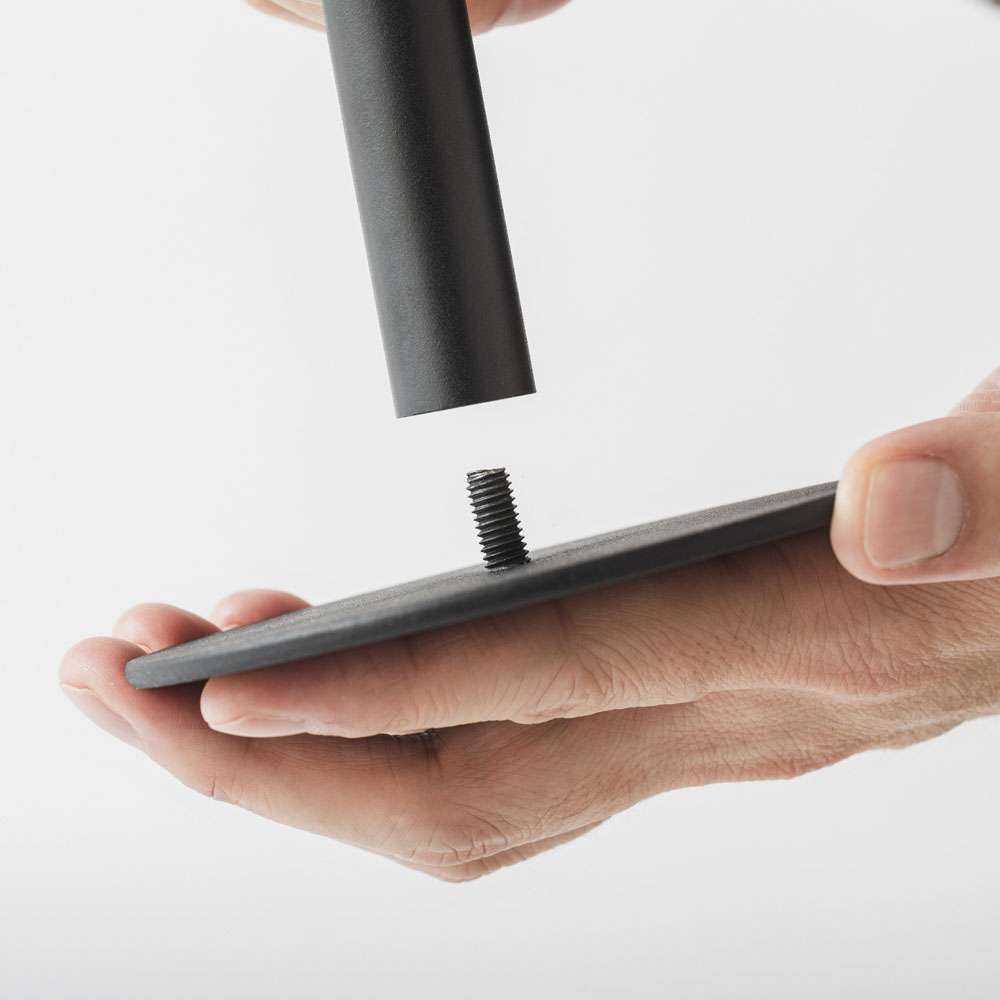 AOKI:
Yeah, we weren't considering about disassembly, and we kept saying "weld all parts together". But again, NAGAYAMA-san showed us a new prototype.

I started to have comfortable feeling when assembling or disassembling each parts. On top of that, it is much easier and safer to carry around and I can put it in my bag.


NAGAYAMA:
That's why I made this prototype. I wanted you to actually "feel" it.


AOKI:
Thank you for letting me experience it (laughter)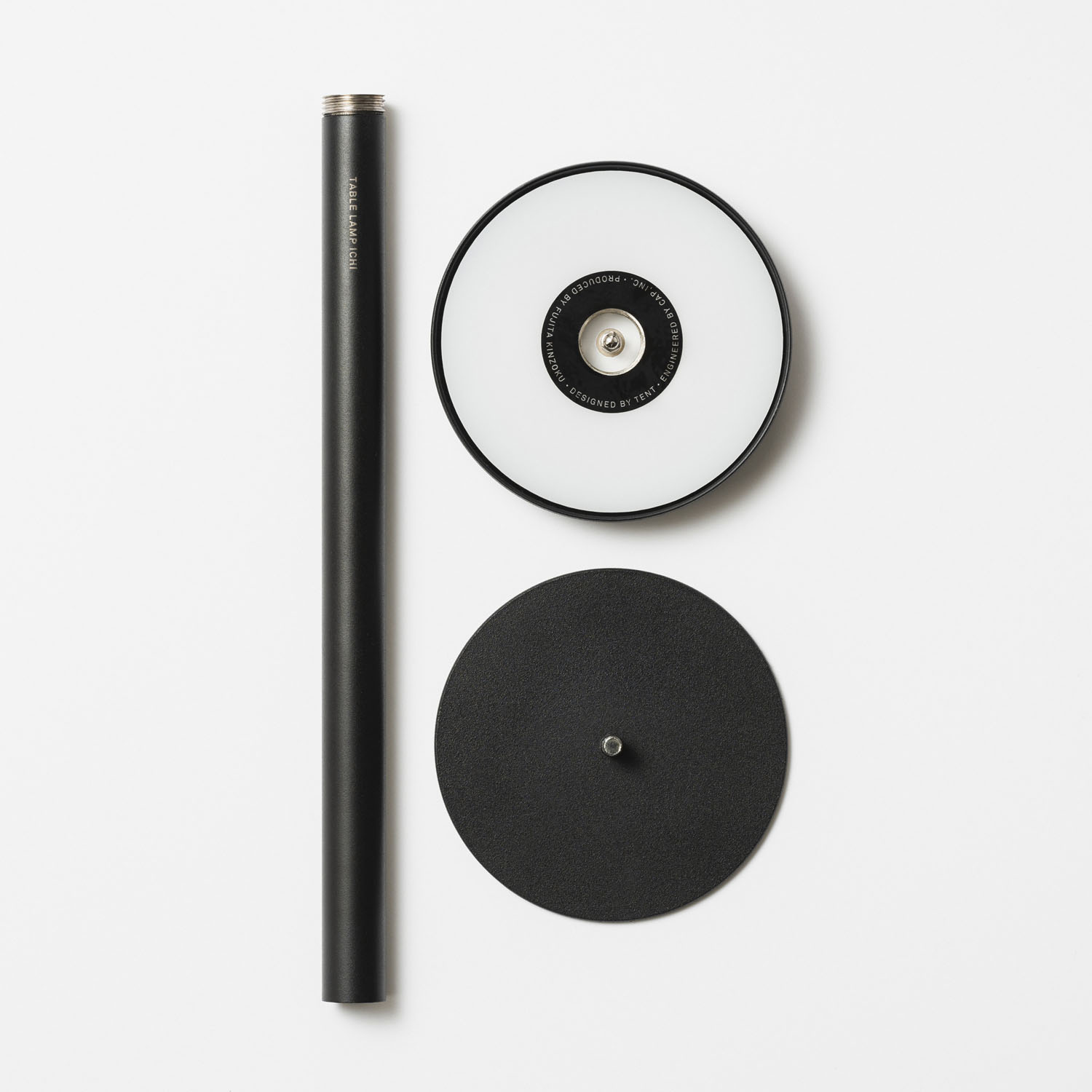 We are preparing packages. Let's wait and see how the package is going to be like.





AOKI:
I could take this table lamp with me anywhere I go. Thanks to your idea of disassembly.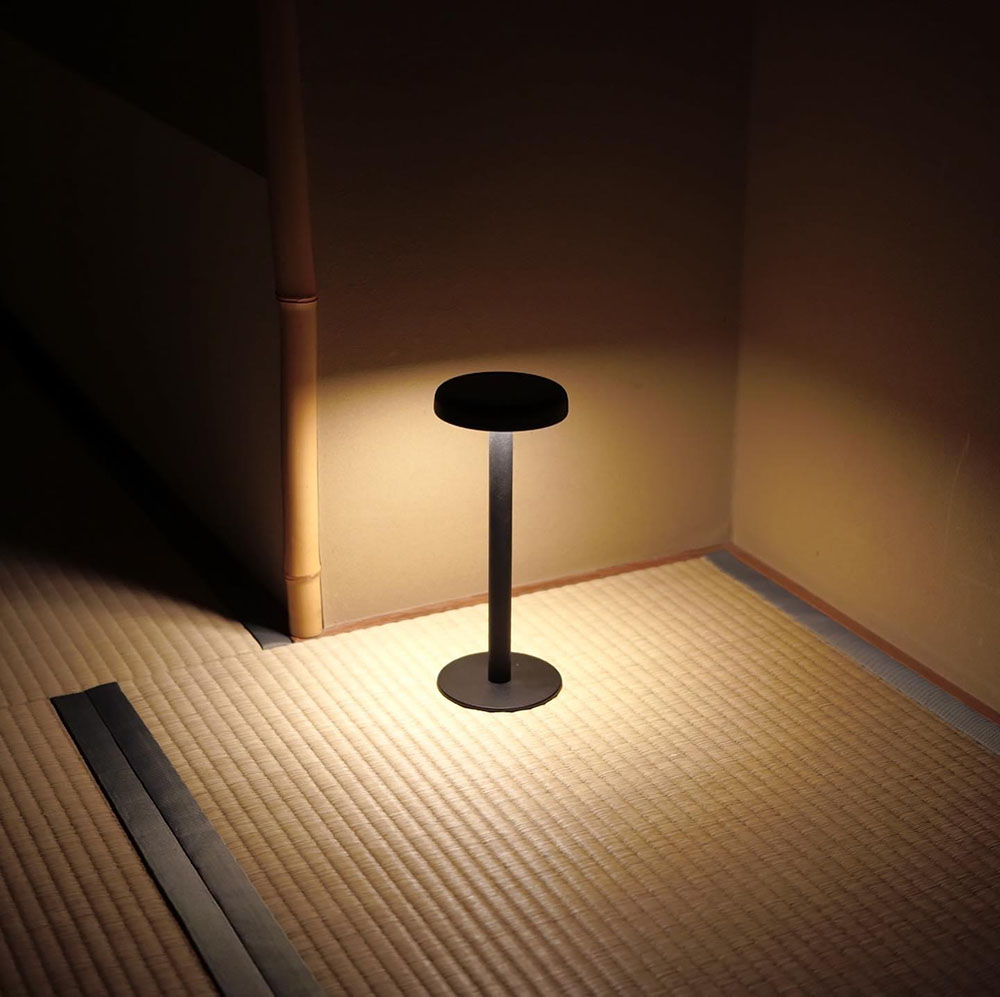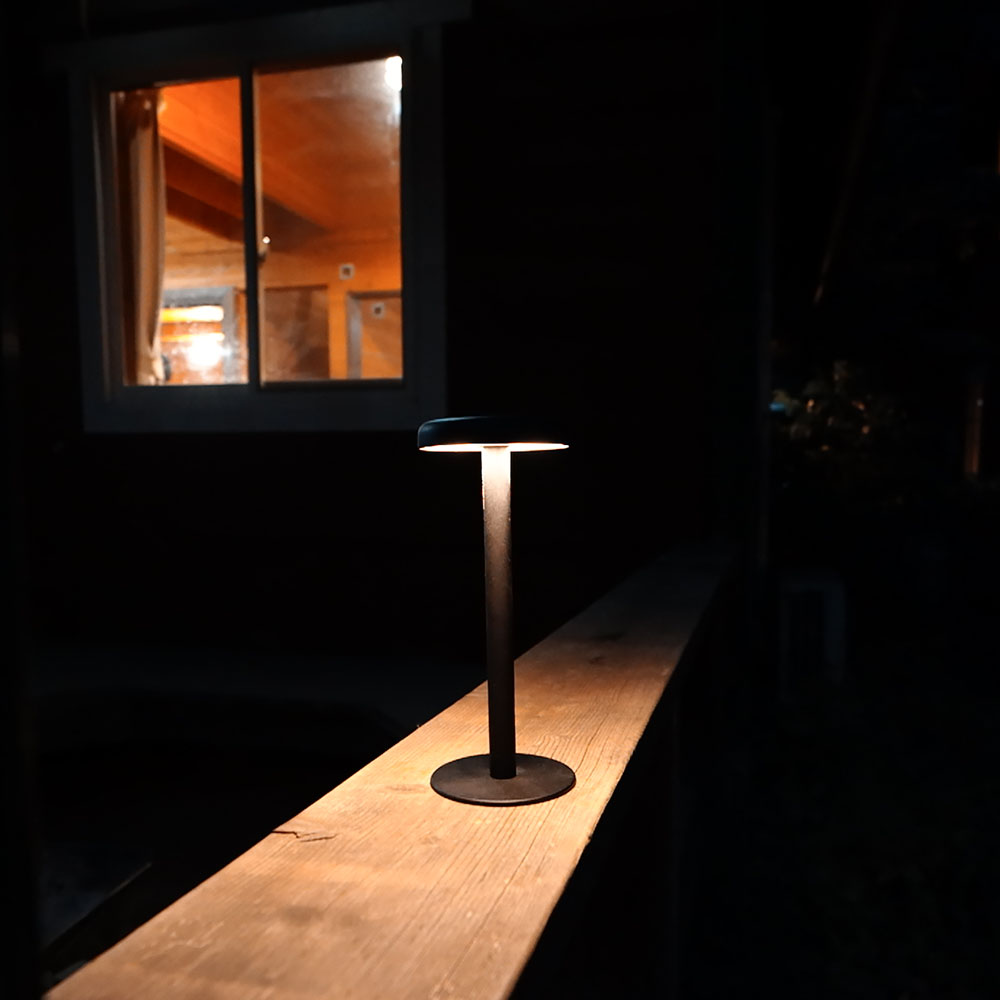 AOKI:
NAGAYAMA-san brought up 2 more ideas actually.
One of them is a clicky switch.




7. Naming from the function

FUJITA:
NAGAYAMA-san was saying it is going to be a touch sensor switch.


NAGAYAMA:
Yes, turning the light on by touching the top lighting unit. I had been particular about this touch sensor switch for a while but since whole body is made from iron, it was more difficult than I imagined.

So instead, I made another prototype with a clicky switch and it was actually better than a touch sensor switch.


AOKI:
I totally agree. It provides fun feeling every time I turn it on or off. And there is much less possibility of malfunctions.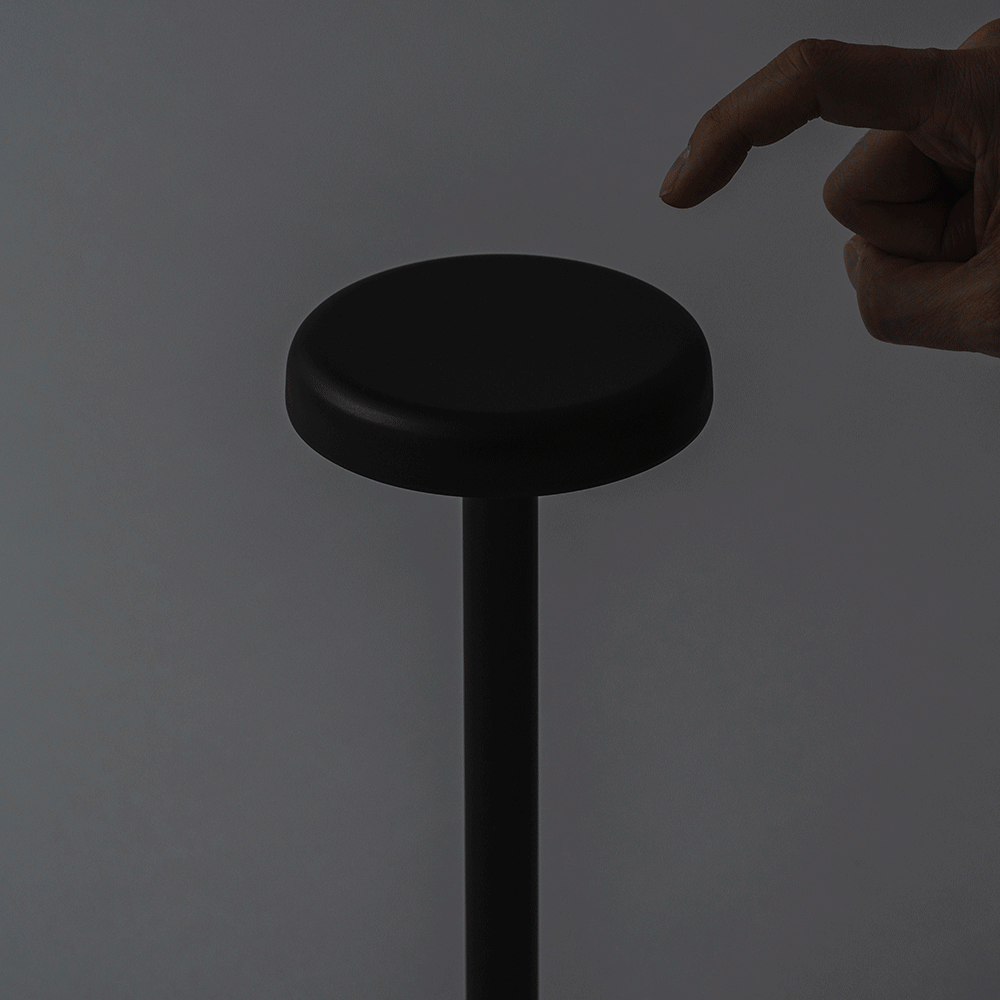 I also need to talk about 1 hour auto-off function. This is the other idea NAGAYAMA-san came up with


NAGAYAMA:
As a microcontroller is installed in the lighting unit, an auto timer function could be added. So, I added that function to the prototype.


AOKI:
I didn't really understand the necessity of auto-off function, but my opinion totally changed again once I used it.

People sometimes forget to turn the light off and waste batteries.

And also, when you are concentrating on something, you won't notice the time. 1 hour auto-off timer will remind you the time gently.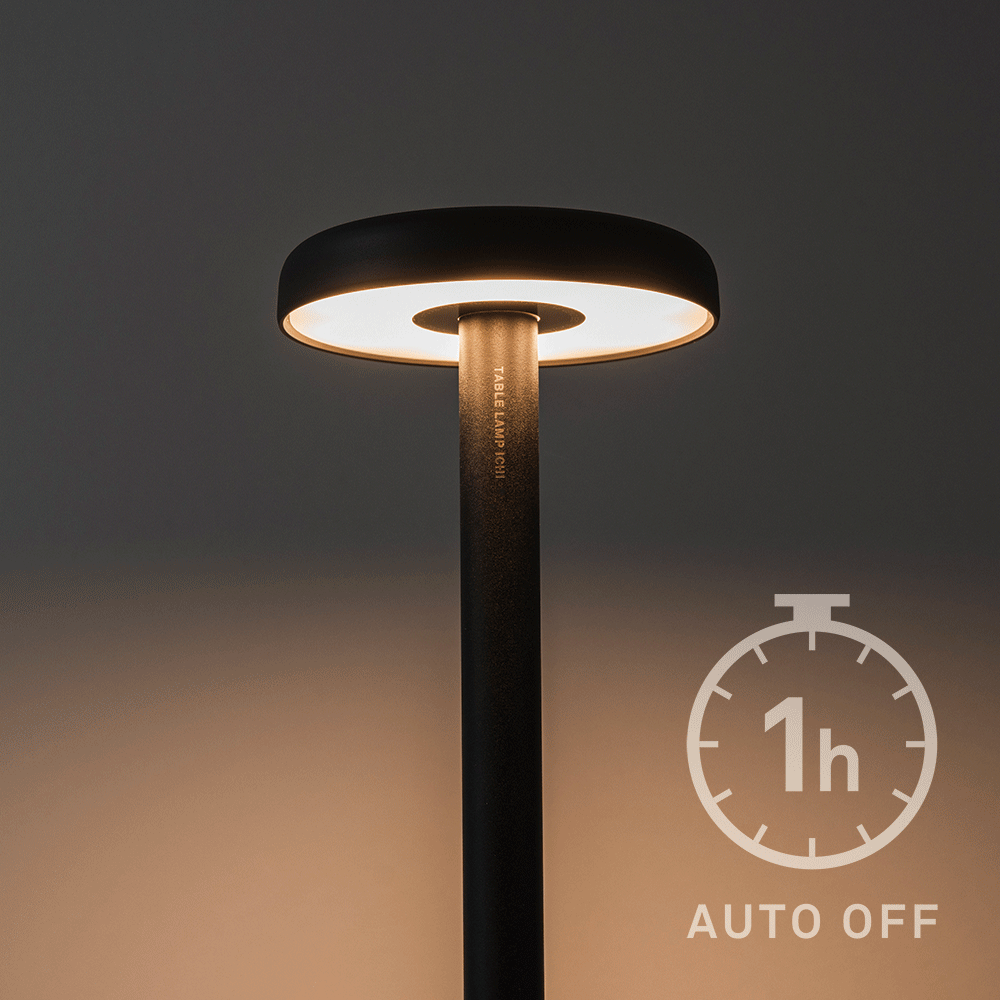 FUJITA:
I see.


HARUTA:
This lamp is actually named from this 1 hour auto-off function.


AOKI:
"ICHI" is "one" in Japanese.
And also, it looks like "1:" when it is disassembled.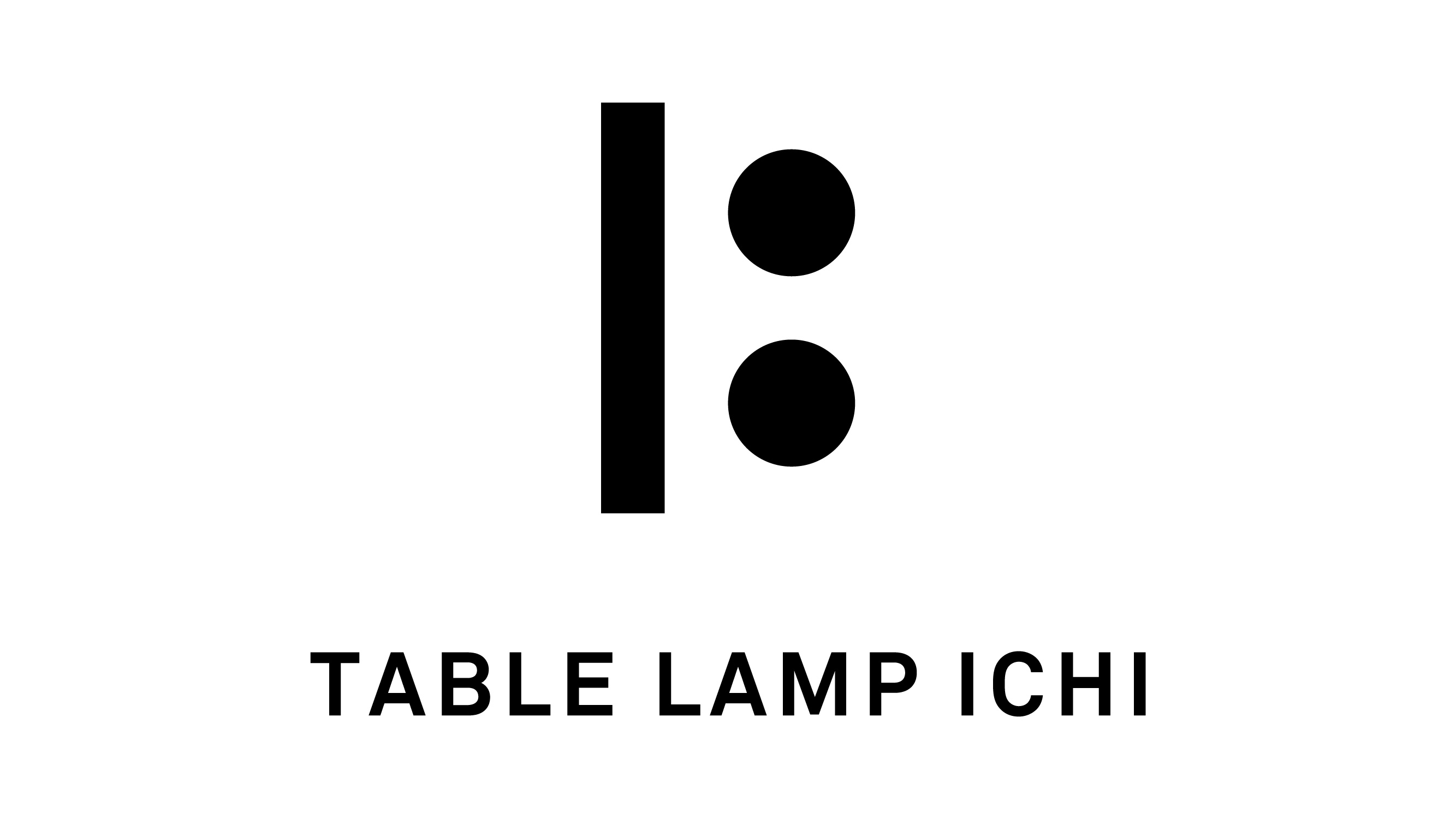 FUJTIA:
You put your thoughts into the name again just like Frying Pan "JIU".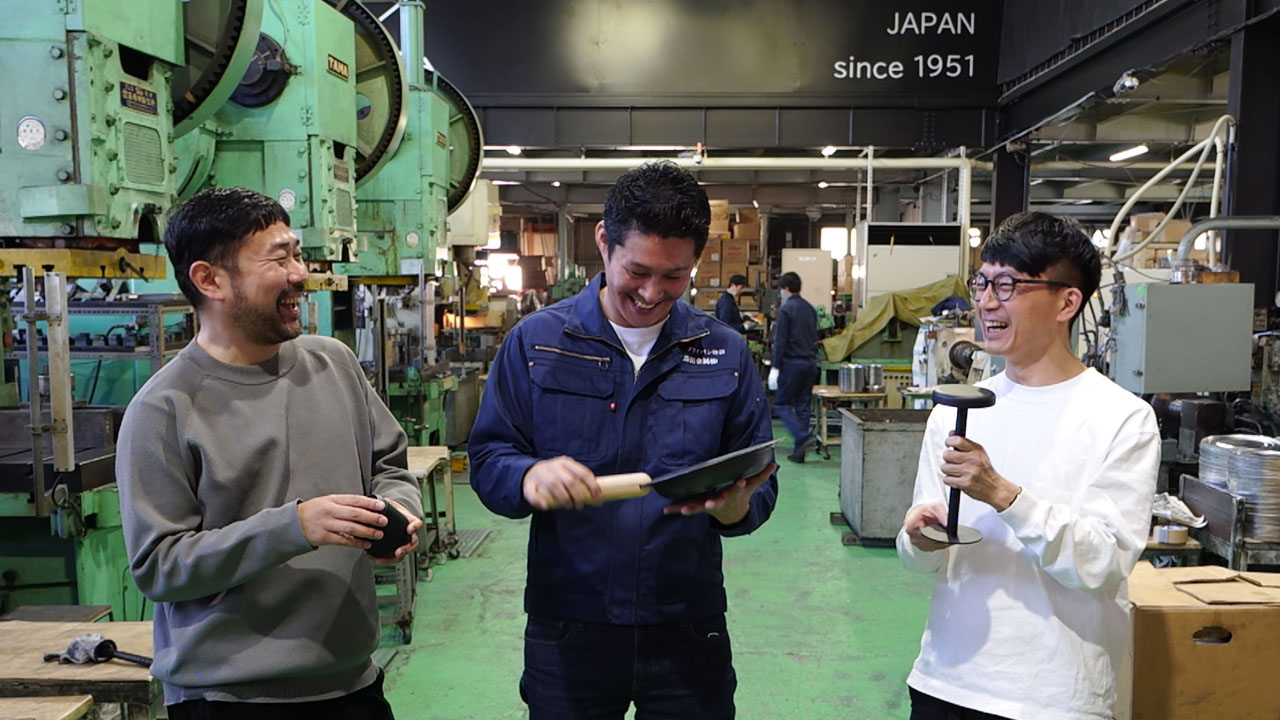 8. The table lamp with long lifetime manufactured by craftsman.

HARUTA:
To conclude, are there any messages you would like to send to readers?


NAGAYAMA:
Well, I would be very pleased if everyone uses it with good care.

It won't break easily but every single parts are designed and manufactured by craftsman with thoughts and feeling. So, I wish everyone uses it gently.


AOKI:
I understand what you mean. (laughter)

Many people tend to think that the lifetime of electrical products is only for a few years. It is sometime affected by the lifetime of pre-installed rechargeable battery or characteristics of materials used for.

But Table Lamp "ICHI" is made from iron and powered by dry cell batteries. I strongly believe that it can be your lifetime partner. I would be very happy to see you using it for a long time.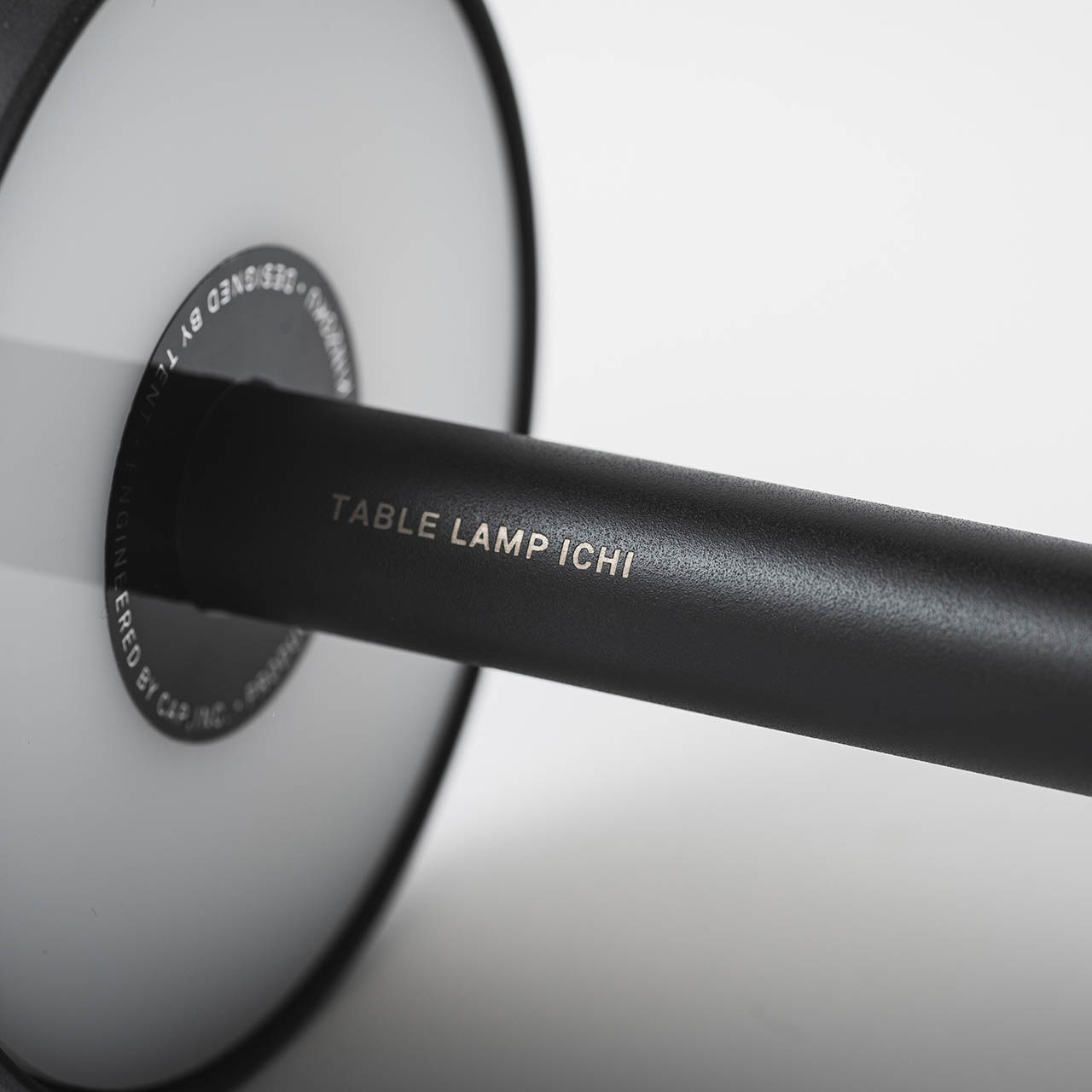 FUJITA:
Most of manufacturing processes are completed by well experience craftsman in Osaka. Powder coatings are also done here is Osaka and the texture of the table lamp is really nice. I hope many people have an opportunity to enjoy the great texture and weight of iron.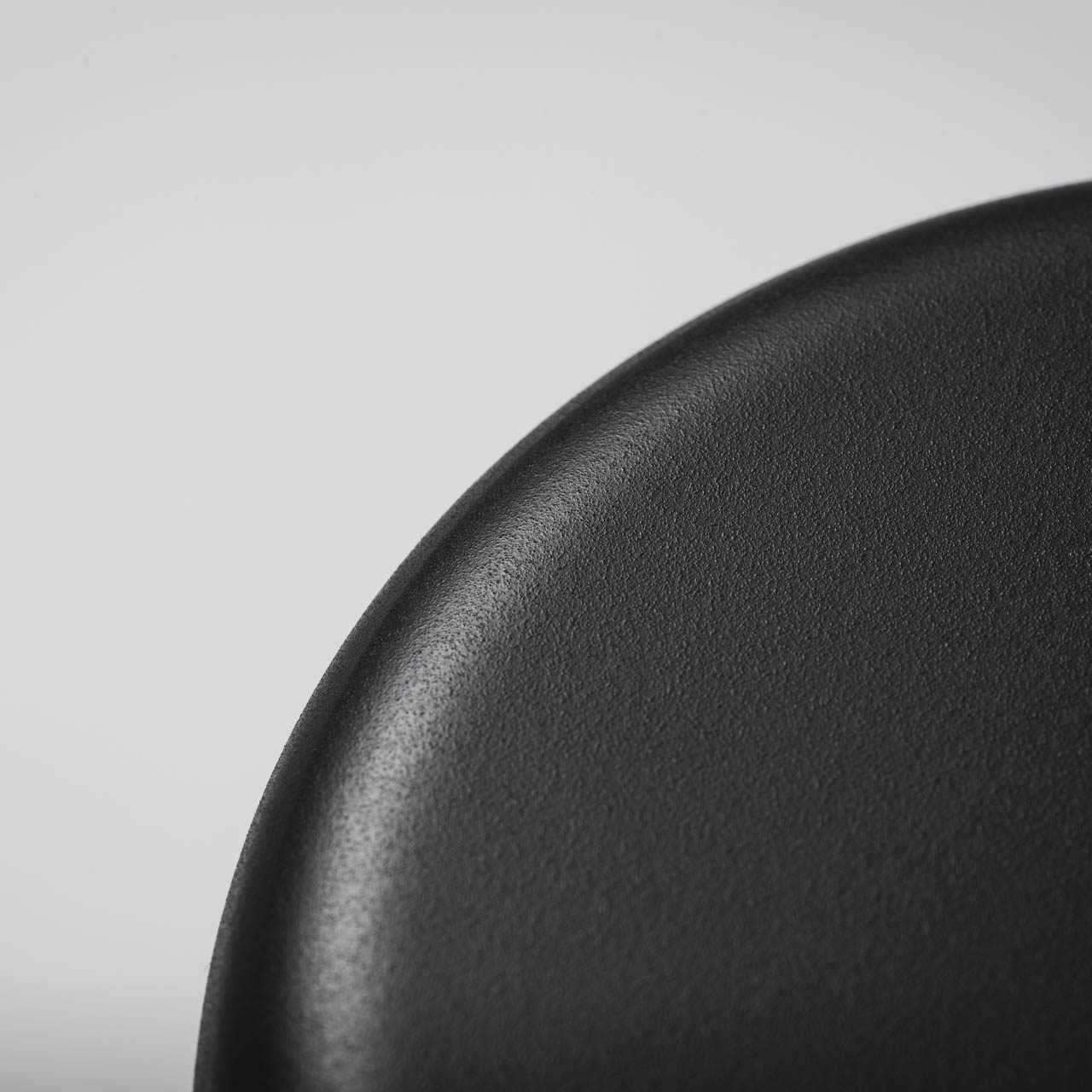 HARUTA:
Thanks everyone!


AOKI, FUJITA & NAGAYAMA:
Thank you all!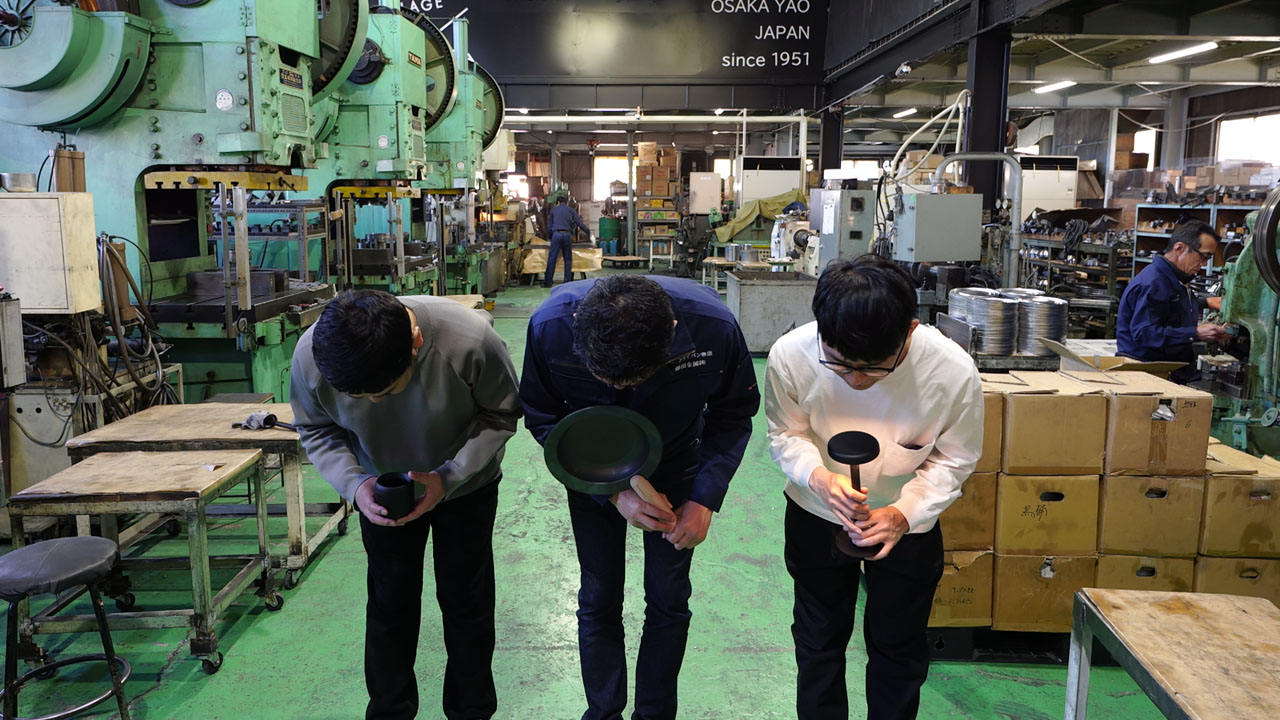 When you are in the living room, bedroom, balcony, or even when you are travelling, Table Lamp "ICHI" will create your "place" and light up your "moment". We hope you will enjoy the great experience of Table Lamp "ICHI"




Should you have any comments and queries on this story, or any requests for interviews, please feel free to contact us at any time.

Email: info[at]tent1000.com
※please replace "[at]" with "at sign"

Contact Person: AOKI / TENT